Eye Surgery Co-Management at Valley Vision Clinic & Optical
While an optometrist and eye surgeon have similar educational backgrounds, an eye surgery specialist focuses on performing the surgery. However, your regular optometrist takes back over after the surgery to provide most of the monitoring and care you need. At Valley Vision Clinic & Optical in Richfield, we offer eye surgery co-management to ensure optimal results.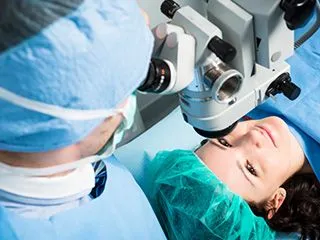 What Is Eye Surgery Co-Management?
Eye surgery co-management is when an eye doctor and an eye surgeon work together to manage a person's eye condition before and after surgery. For instance, if you have cataracts and require cataract surgery, our optometrists will refer you to a surgeon but will provide pre and post-op care. The same applies if you have glaucoma surgery, LASIK surgery, or another type of eye surgery.
We will provide the guidance you need to be well prepared for surgery. Our optometrists will also work with you afterward to ensure you heal properly and no additional issues occur. Our eye doctors will consult with the surgeon and possibly refer you back to them if a problem arises.
Why This Is Beneficial
Your eye surgery and the scope of practice our optometrists cover slightly overlap. However, we are not as well versed in this field of eye care as the eye surgeon is. On the other hand, the eye surgeon relies on our optometrists to provide him or her with the most updated and accurate information about you.
When you opt for surgery co-management, you get the best of both worlds. You have an eye surgeon who can address any serious issues with your eye surgery. Likewise, you have our optometrists who can provide the information and guidance the surgeon needs to properly handle your procedure. As doctors work together, you're less likely to have any misdiagnosis or improper treatment issues.
Another reason this is beneficial is that you can get a referral from our optometrist for an eye surgeon with knowledge and experience in the type of procedure you require. You can rest assured knowing the practitioner you're going to is someone our optometrists approve of. Plus, you'll have less back and forth when your practitioners work with one another.
Contact Us for Eye Surgery Co-Management from Our Optometrists in Richfield
Surgery co-management is a service we offer at Valley Vision Clinic & Optical to make sure you experience optimal results from your surgery and can have your condition management properly. Book an appointment today at our Richfield clinic for your next vision exam, especially if you may require eye surgery. Call us at (435) 896-8142 for an eye exam or to learn more about how we can help.