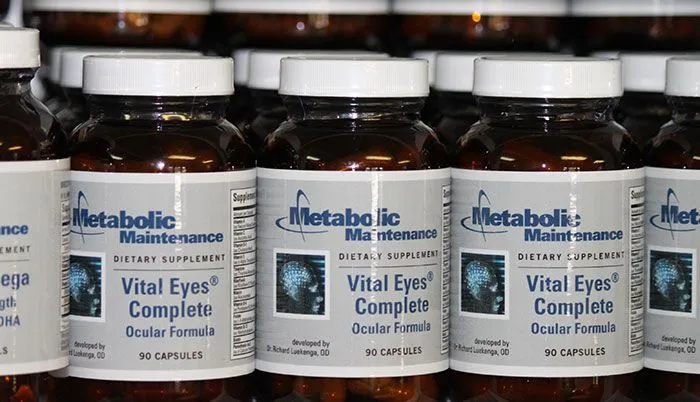 NUTRITION AND OCULAR HEALTH
Numerous clinical nutrition studies repeatedly place medical nutrition therapy on center stage as a strong preventative component in treating many ocular eye diseases, including Age-Related Macular Degeneration (ARMD).
VitalEyes Complete is a Research-Based Ocular Protection Multivitamin developed from two highly regarded studies, ARED's and Veterans LAST, and in consultation and conjunction with our Dr. Richard Luekenga, O.D.
The premier study in this group, the prestigious Age-Related Eye Disease Study (ARED's), demonstrated a 25% reduction in the development of advanced ARMD or severe visual impairment in the group taking large, combinded doses of zinc and antioxidants (including beta carotene and Vitmins C and E) over a six- year period.
In the ARED's study, people with early signs of ARMD who took 500 mg of Vitamin C, 400 IU of Vitamin E, 15 mg of Isolated Beta Carotene , 80 Mg of Zinc and 2 mg of Copper significantly lowered their risk of ARMD progression.
There is increasing evidence for the beneficial effects of the carotenoids lutein and zeaxanthin. The Veterans LAST study bowed significant visual function improvements in patients with severe ARMD using 10 mg of lutein in supplemental form along with a broad spectrum formula of antioxidants and other supporting vitamins and minerals.
To learn more about this vitamin and all vitamins in our office, call our knowledgeable staff at Valley Vision Clinic & Optical and schedule an appointment with Dr. Richard Luekenga or Dr. David Graf. (435) 896-8142..
VitalEyes ™ Complete
Developed by Dr. Richard L Luekenga, O.D.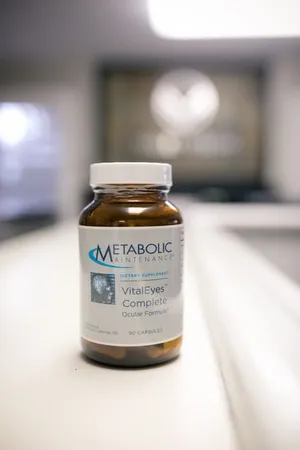 Advanced glycation end products (AGEs), oxidative stress (OS), and elevated homocysteine levels can adversely affect eye health. AGE formation can contribute to microvascular damage- a threat to retinal function. The eye is a major target for reactive oxygen species caused by OS, resulting in oxidative damage. Huperhomocyseinemia (HHcy) is a risk factor for impaired ocular function, including reduced vascular endothelial function, lens opacification, and optic nerve damage.
VitalEyes ™ Plus contains a full array of vitamins and botanical extracts to combat AGE formation, OS, and HHcy and promote healthy vision.
Biologically active L-methylfolate and vitamin B-12 are essential for the metabolism of homocysteine and maintenance of normal Hcy levels.
Vitamin D-3- low serum vitamin D levels are associated with many health concerns, including ocular function.
CoQ10, Alpha Lipoic Acid, vitamin C, vitamin E, and NAC are powerful antioxidants. CoQ10 and antioxidant therapy have been shown to lower markers for OS in diabetic retinopathy.
Lutein and Zeaxanthin, pigments long associated with eye health, are also effective antioxidants that may help prevent microvascular damage.
Benfotiamine, fat-soluble thiamine, inhibits AGE formation and the accumulation of triosephosphates arising from hyperglycemia.
Enzogenol Pine Bark Extract and Grape Seed Extract are rich in proanthocyanidins that protect from OS and benefit endothelial function.
Resveratrol is a powerful antioxidant that benefits endothelial function and may also protect visual function.
Turmeric (curcumin) has been shown to reduce OS and regulate apoptosis (adjacent cell death) of retinal pigment cells.
*Per Dr.'s Luekenga and Graf- Take vitamin morning and night (2/ day). Always take with food. One bottle will last a month and a half.
---
Tri-KRILL™ Oil
The triple benefit krill oil with 6 mg of Astaxanthin,
the highest of all krill supplements
Tri-KRILL oil, by NWC Naturals, is more than plain krill oil, containing no less than 42% phospholipids and 1500 ppm of Astaxanthin, the highest of any krill oil product on the market. Every batch is tested for contaminants and heavy metals and then 3rd party tested for your health and safety. NWC Naturals uses only the best ingredients from Antarctic Krill, the earth's most abundant and sustainable organism.
Why Tri-KRILL ™ oil is now our #1 choice...
Krill Oil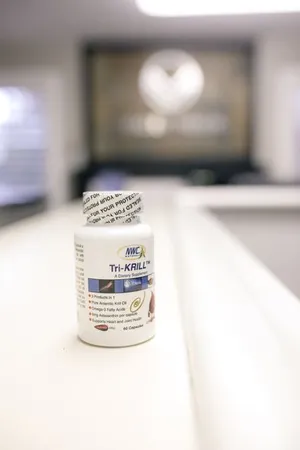 Krill Oil is an omega-3 fatty acid and is essential to better brain function and joint health. Recently the Harvard T.H. Chan School of Public Health has shown it can also help prevent heart disease, stroke, eczema, rheumatoid arthritis, may help control lupus, and may help play protective roles in cancer.
Choline
Choline is found in krill phospholipids and has critical functions as a precursor to the neurotransmitter, Acetylcholine, most known for its involvement in Alzheimer's disease. If we have adequate levels of choline, we support the acetylcholine neurotransmitter system, which protects attention, focus, memory, and even muscle function.
Astaxanthin
This powerful antioxidant isn't available in fish oil, but it's found in high quantities in lobster, crayfish and krill. Astaxanthin is key in fighting Macular Degeneration and increases good cholesterol levels. To see results, our research found that you need at least 2 mg of astaxanthin per serving.
Absorption
Krill and fish oil similarly contain EPA and DHA, but they differ in the way that the omegas are bonded. The omegas in krill oil are mostly bonded to phospholipids, just like humans, unlike fish oil. Studies show that phospholipids are more effective for absorption. We suggest finding a formula with at least 500 mg of phospholipids for real absorption power.
---
Pro-Argi-9+
By Synergy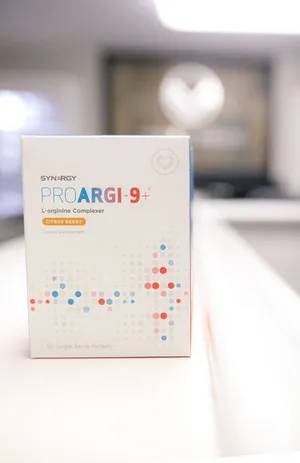 Not all L-Arginine is the same. Known as the world's highest quality l-arginine supplement, ProArgi-9+ has a clinically-proven, patent-pending formula that works powerfully to support your body's blood circulation.
One of the many benefits of ProArgi-9+ is its ability to enhance blood flow to vital organs, including those organs that compose the human gut. As your gut houses trillions of important, functioning microbes, it is your microbiome "ground zero," and it deserves your care. Allow ProArgi-9+ to increase blood flow to the gut, delivering the essential vitamins found in its formula, including L-citrulline, and five essential vitamins for enhanced overall performance.
BENEFITS
Supports overall cardiovascular health
Enhances blood flow to vital organs
Combats the negative effects of premature cardiovascular aging
May aid in decreasing body fat and building muscle mass
Helps maintain healthy blood pressure levels
Inhibits myeloperoxidase, an enzyme that is known to oxidize LDL cholesterol
To order in a large 66 oz container (180 servings), please talk to one of our staff members at Valley Vision Clinic.
---
Borage Oil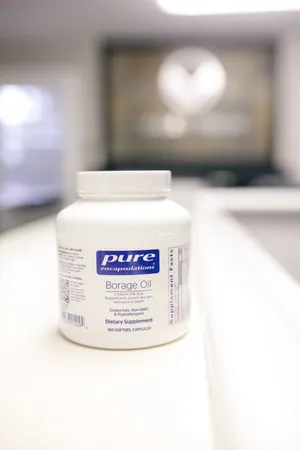 Borage oil is an extract made from the seeds of the Borago officinalis plant. Borage oil is prized for its high gamma linoleic acid (GLA) content. GLA is one type of omega-6 "essential" fatty acids. Because the body does not make this on its own, it's preferable and most effective to consume GLA directly. Borage Oil is becoming increasingly popular as a natural anti-inflammatory supplement because of its high amounts of GLA.
How Does Borage Oil work?
Due to its anti-inflammatory and antioxidant properties, borage oil containing GLA can be helpful for treating a wide range of both short and long- term illnesses, including:
PMS symptoms (including breast pain or tenderness, anxiety, and skin breakouts)

Bone loss and osteoporosis (especially when combined with bone building supplements like omega-3 Tri-KRILL ™ oil)
ADHD symptoms
Skin disorders, including eczema or dermatitis
Menopause symptoms, including hot flashes and night sweats
Hormonal imbalances, including adrenal insufficiency
Ongoing chronic fatigue syndrome
Rheumatoid arthritis
Managing Diabetes
Respiratory distress (ARDS), bronchitis, colds, coughs and fevers
Inflammation causing pain and swelling
Preventing heart disease and stroke
When the body isn't able to complete an important metabolic step that keeps anti-inflammatory enzymes at appropriate levels, inflammation rises. This is the root of most diseases. Supplementation with essential fatty acids (such as Borage Oil) helps treat inflammatory disorders by correcting defective conversions of fatty acids. Prostaglandin E1 develops which metabolizes and helps boost circulation and anti-inflammatory abilities.
---
DVS
By EyePromise
Managing glucose levels while also having to worry about eye health can be difficult. That's why DVS was formulated- to give your eyes the essential nutrients they need to support and protect eye health without impacting normal glucose levels. Increased macular pigment improves visual performance in many ways, including:
DVS was formulated to:
Make vision as healthy as it can be without disrupting glucose levels

Make colors brighter and vision sharper
Vitamin C: An essential vitamin in the production of the glue that holds the cells in the eyes and brain together. Vitamin C can be found in oranges, guava, and kale.
Vitamin D: A vitamin that promotes eye health as we age. Deficiency of this vitamin is linked to age-related eye health issues. Vitamin D can be found in cod liver oil, salmon, and tuna.
Vitamin E: An essential vitamin that slows cellular aging and strengthens blood vessels. Vitamin E can be found in almonds, spinach, and chard.
Vitamin B12: An essential group of vitamins proven to help mitigate the effects of age-related eye health issues. This assortment of vitamins can be found in rice, liver and dark, leafy greens.
Zinc: An essential mineral important for metabolism and eye health. Zinc can be found in pumpkin seeds, garlic, and dark chocolate.
Omega-3: An essential nutrient that promotes eye, heart and skin health. Deficiency in Omega–3 can result in poor eye and brain function. Omega–3 can be found in cold-water fish, flaxseed, and walnuts.
Alpha Lipoic Acid: An antioxidant found in dark, leafy greens that work with vitamins C & E to maintain eye health. Alpha Lipoic Acid can be found in broccoli, spinach, and brussels sprouts.
CoQ10: A powerful antioxidant important for blood vessel health and the generation of energy of heart, brain and eye cells. CoQ10 is commonly found in meats, soy oil, and fish.
Mixed Tocopherols: Essential in slowing cellular aging and strengthening blood vessels. In some cases, mixed tocopherols are even more effective than vitamin E.
Zeaxanthin: The most critical nutrient needed for vision protection and improvement. Zeaxanthin acts as "internal sunglasses" for vision by protecting it from harmful blue light and other oxidants. This nutrient is scarce in the typical American diet. Small amounts of zeaxanthin can be found in corn, peppers and egg yolks.
Lutein: This nutrient works with zeaxanthin in protecting and improving vision. Large amounts of lutein can be found in marigolds and green, leafy vegetables.
Benfotiamine: A powerful antioxidant and relative of vitamin B1(Thiamine) that supports a healthy nervous system and healthy blood vessels in those concerned with blood glucose levels. Benfotiamine can be found in crushed garlic, onions, and leeks.
N-acetyl-l-cysteine: An antioxidant that is also a building block to another naturally occurring antioxidant in the body and the eye. N-acetyl-l-cysteine can be found in granola, oats and red pepper.
Grapeseed Extract & Resveratrol: Powerful antioxidants that strengthen blood vessels. Grapeseed and Resveratrol are commonly found in grape skins.
Pycnogenol®: This supports healthy blood flow in the eye and is commonly found in French maritime pine bark.
Curcumin: A group of antioxidants with broad benefits for the body, brain, and eye. Curcumin is commonly found in turmeric root.
Green Tea Leaf Extract: A group of antioxidants with broad benefits for the body and brain.
Other Ingredients: Gelatin capsule (gelatin, glycerin, purified water, annatto, titanium dioxide), soybean oil, yellow beeswax, soy lecithin. Gluten free
Contains soy and fish (cod, pollack, whiting).